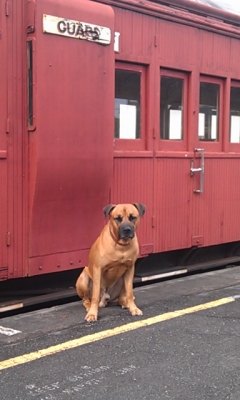 Hi Angus the Rockhound here,
I've been sniffing around some coal recently (hence my lovely black nose) and thought I'd tell you about the coal we have in stock which is classified as steaming coal and comes  from the Clermont mine in Central Queensland.
Steaming coal is a high grade of bituminous coal but not as highly graded as anthracite (the highest grade of coal). Steaming coal was traditionally used for powering steam engines and locomotives due to it's superior thermal output. The bituminous coal grade also includes thermal coal which is mainly used in energy production today and is the bulk of production at Clermont. You may have also heard the term 'coking coal' which is also a sub-category of bituminous coal and is lower in sulphur and phosphorous and used in steel production.
This specimen is an example of Permian coal, is dense, black (not brown) and displays typical bands of bright and dull material.
Think I'll go find a steam train to hang my head out of, that sounds like good fun for a hound!